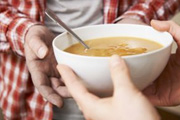 Community Soup Kitchen
Every Friday a free nutritious lunch is served from 11:00am – 1:00pm. See video link for more details.
Shepherd's Crook Food Pantry
The Shepherd's Crook Food Pantry has relocated to St. Paul's by-the Sea parish hall at 302 North Baltimore Avenue, and will reopen on July 17, 2018.  Open year round, it will serve the community on Mondays, Tuesdays, Thursdays, and Saturdays from 10:00 am until noon.
The Cold Weather Shelter
Supported by community churches and housed at St. Peter's Lutheran Church in Ocean City, the shelter is staffed by volunteers and open when necessary. See video link for more details.
Annual Martha Circle Christmas Bazaar
Held in November, Martha Circle members meet year round to prepare for this popular community event. The Martha Circle is a group of women that meets monthly to pray, have fellowship and support the needs of God's kingdom through the church. All women are welcome to join! The Christmas bazaar is a church event led by this Circle and many people are needed to help out.
Donna Holdren Prayer Shawl Ministry
A chance to pray, connect and serve others through knitting beautiful shawls that are blessed and then sent all over the world.
Prayer Ministry
In the weekly church bulletin, there is a tear off sheet with a section for prayer requests. These requests are added to the prayer list for a period of time. The pastor and other prayer partners are available at any time. Just let the church office know.
Thanksgiving and Christmas Meals to Shut-ins Ministry
Volunteers gather to put together food boxes at a Mountaire Poultry site. The church then receives a number of boxes which have donated food items added to them and then are distributed to shut-ins.
Worship Assistants
Volunteers help to greet, collect the offering, lead the readings, light the candles, prepare the communion bread and juice and direct people to the altar on Communion Sundays.